The Facebook like button is now used by 20% of all websites, up from 15% one year ago
Facebook is obviously the king among social networks. While, interestingly, our survey of social widgets does not proportionally reflect the user numbers of the networks, the Facebook like button is still the clear number one. One out of five websites is now using it to invite visitors spreading the content. That corresponds to 61.4% of the sites that use any social widget.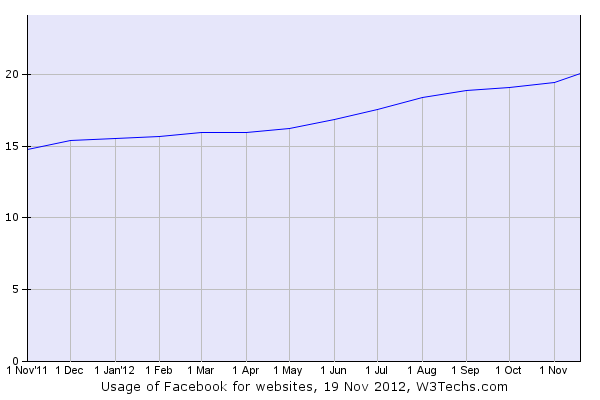 Technically speaking, there is not only one like button, but a range of options offered by Facebook. We count all the variants that allow visitors to directly share content with their friends. Other widgets, that merely show some information, are not considered to be a "like button". For example, the widget you see below at the bottom of this page between Twitter and Google +1 counts, whereas the Facebook widget on our search page does not count. We also don't count links to a companies fan page on Facebook.
Facebook is not only the most popular social widget, it is also the one with the fastest growing adoption rate at the moment. On an average day, 197 of the top 1 million sites start using the Facebook like button. The competition cannot compete with that rate, usage of the Google +1 button is recently even hardly growing at all. Usage of the Pinterest Pin-It button grows faster percentage-wise, but not in absolute numbers.
Pinterest is also the widget that succeeds to lure more sites away from Facebook than any other network, with Twitter coming second in that list, see our technology change report. Since Facebook is growing fast, but still losing more sites than it gains from others, we can conclude that often websites start their social engagement with Facebook, and then expand their coverage to other networks.
It is quite common for sites to use more than one social widget, as our report on multiple technology usage shows. The Chinese networks Baidu and Weibo are an exception, they tend to be used exclusively. Next comes a group of generic social sharing widgets, but then we see that 39.7% of the sites that use the Facebook like button, use no other social widget. That share is significantly higher than for the majority of the other networks.
When we look at the sites' content management systems, we see that websites built with one of the popular CMS tend to use the Facebook like button more often than average sites: 34.5% of WordPress sites, 26.1% of Joomla sites, 24.2% of Drupal sites and even 56.7% of Blogger sites use it, while sites that don's use any CMS also tend not to use a social widget.
The Republic of Macedonia is the country with the biggest popularity of the Facebook like button. 52.2% of Macedonian sites ask their visitors for a like. Other countries with higher-than-average Facebook like button penetration are Hungary (39.7%), Romania (39.2%), Greece (35.0%), Israel (33.5%) and Brazil (31.2%). On the other end of the spectrum we find China (0.2%), Iran (2.2%) and South Korea (5.6%).
All these statistics and much more can be found in our extensive Facebook Like Button Market Report and in our Social Widgets Market Report.
_________________
Please note, that all trends and figures mentioned in that article are valid at the time of writing. Our statistics are updated frequently, and these trends and figures are likely to change over time.
Share this page
---
This entry is closed for comments.