Russian is now the second most used language on the web
Russian is used on 5.9% of all websites, very slightly ahead of German and far behind English.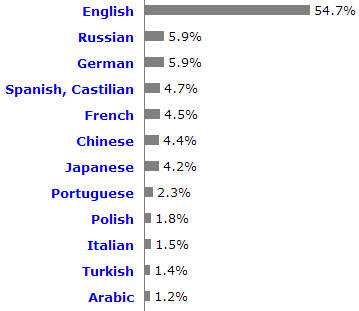 The Russian Internet domain .ru became the most popular country-code top level domain in September 2011 and has been growing ever since. But Russian is used not only on 89.8% of .ru sites, also on 88.7% of the former Soviet Union domain .su, a domain which is supposed to be phased out, but still gaining popularity for whatever reason. Russian is also the most used language in several countries that belonged to the Soviet Union: 79.0% in Ukraine, 86.9% in Belarus, 84.0% in Kazakhstan, 79.6% in Uzbekistan, 75.9% in Kyrgyzstan and 81.8% in Tajikistan.
Russian is somewhat less used on top sites, it is only language no 6 on the top 1,000 sites, behind English, Chinese, French, German an Japanese.
Most Russian language websites are using UTF-8 now as character encoding (62.0%), a minority are still using Windows-1251 (37.5%), and very few use KOI8-R (0.4%).
If we look at the trend in the last few years, is seems very likely that Russian will stay at rank #2 for a while. Chinese would of course be the logical candidate to move up that far, but we don't see that yet in the statistics.
_________________
Please note, that all trends and figures mentioned in that article are valid at the time of writing. Our statistics are updated frequently, and these trends and figures are likely to change over time.
Share this page
15 comments
Привет! Hello! From Russia with love :)

Summary: 92,5%, why? ))

@Poster: the picture above only shows the top languages. You can see all languages in this survey. The sum there is more than 100%, because websites may use more than one language.

I hope, you filtered doorways?

7.5% - other languages.

@Neuro: you can read about our methodology here.

Alexa's top million rule may destroy the correctness as soon as you compare different languages. If your site is in English, it works smoothly, while for Russian site, for example, alexa rank means practically nothing: one SEO oriented person can bring site into top 100.000, and reversly, thousands users without alexa bar may dayly read site which is below a first million.  I think that a search was rather un-accurate in this point. You need to operate real statistical data, not bar-related.

2Neuro You mean doorways in English? Find that the percentage of English increased?

@iH: We use the Alexa ranking as a quality criteria for inclusion of sites in our statistics.

Why do we need a quality criteria? Because it's so easy to create useless dummy websites that would invalidate our data. There are millions of parked domains, and any number of sites without useful content created as part of link farms or similar schemes. While the Alexa ranking can be manipulated to a certain extent (but don't underestimate the smart guys at Amazon monitoring the ranks), if we would count all sites, as you seem to suggest, we would open up the statistics to much more manipulation, rather than reducing it. That may be counter-intuitive at first. If you count people, you better don't exclude anyone from your statistics. If you count websites, that's a bad idea.

Hi Mister Gelbmann!

I'm interested, how popular russian language in Azerbaijani internet area? in ukrain 79%, in kazakhstan 84% ... how many in Azerbaijan? please say.

The percentage of Russian sites in Azerbaijan is 21.6%, see this report.

I just can't believe 33.5% .az sites are in English. Who needs English in Azerbaijan? Spomething wrong in stats.

@Oqooh: Quite a few sites offer English as additional language. These are a some of them: http://anama.gov.az/, http://tbc.az/, http://bsu.edu.az/.

Dear Mr. Gelbmann, What entities do you count when measuring language usage by websites: home pages, documents, total number of words or symbols? For example, do facebook.com or vk.com count as one entity (equivalent to a business card website with a single page) or as millions of entities? Is any weight assigned to those entities based on measured popularity of the entity? Also, if I understand correctly, you collect information on the top 1M websites according to Alexa. But the Alexa list is created based on data collected by the Alexa Toolbar. Could it be that the Chinese and Japanese never install it, and therefore Chinese and Japanese language websites are underrepresented in the Alexa rank, and, consequently, in this W3Techs survey? Best regards, Arefiev

Arefiev, we count the number websites, not weighted by popularity. Amazon says that the Alexa data are obtained from the toolbar and from "other, diverse traffic data sources". While we don't know what exactly these other data sources are, we find that the Alexa ranking is the most un-biased website ranking that is available, and that's why we use it.




---
This entry is closed for comments.