Highlights of web technology surveys, May 2011: Every second website is using Google Analytics now
Google Analytics works by having webmasters insert a small JavaScript program into their web pages. That program calls the Google Analytics server whenever a visitor loads a web page. The Google Analytics server collects all kinds of statistics about the website visits, which the webmaster can then explore.
Webmasters like this service very much, because it is simple to use, it provides lots of useful insights, it doesn't use any resources on their own server, it is quite reliable, and it is free. They like it so much, that 50% of them are using it by now: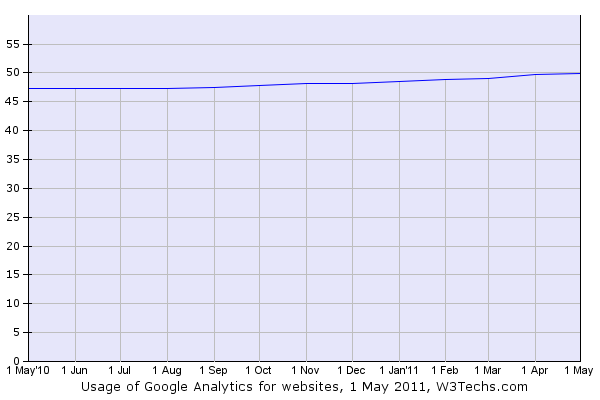 I personally find that remarkable for at least two reasons.
From a technical point of view, it is quite amazing that roughly every second request for a web page anywhere in the world causes some data to be collected by Google. The sheer amount of data collection and data processing involved in that, is just mind boggling.
From a data privacy point of view, it is frightening. All these data are collected by one company, and this company also collects lots of personal information from web users via its umpteen other services such as Google Search, Gmail, YouTube, AdSense and many others. That puts a lot of responsibility on this company as the combination of all that data could easily be misused.
Still, at this point in time, I trust Google more than I would trust most other organizations, including any government on the planet. But experience tells us that these things might change quickly, and then it might be too late to be concerned about privacy protection.
But before we digress completely from the statistics, let's look at some more details of our surveys.
The traffic analysis tool survey shows, that the 50% usage of Google Analytics is equivalent to an overwhelming 81% market share in the web analytics market. That means that Google Analytics is used much more than all the other tools combined, although many sites use more than one such tool, which makes the sum of all market share values more than 100%.
The Ranking Breakdown report reveals that Google Analytics is used somewhat less amongst the top 1000 sites, but a market share of 72% in that range is still not too bad.
Speaking of top sites, the most popular sites that use Google Analytics include Twitter, LinkedIn, IMDb, Ask, Tumblr, MySpace and Wordpress.org. This is an impressive list. One might think it is strange that it doesn't include Google.com and other Google properties such as YouTube. This is pure speculation now, but I could imagine that Google itself is using some internal interface to Google Analytics rather than the JavaScript API. If this is the case, then we wouldn't detect it in our site analysis.
Looking at the Technology Change report, we can see that Google Analytics is gaining users from many other Analytics tools. There is one notable exception, and that is Piwik. A quote from the Piwik site says "Piwik aims to be an open source alternative to Google Analytics." Besides being open source, the major difference is that Piwik users typically keep their data on their own site, which is of course a significant feature from a privacy point of view.
The Top Level Domain breakdown report shows, that Google Analytics has a dominant position in almost all countries. In some countries it has even 90% market share or more, for example in Japan, UK, Italy, Brasil, Poland, Netherlands and Australia. On top of that list is Lithuania, where it is used by over 80% of all sites, that is a local market share of 97%. Strange enough, it has "only" 76% market share in the .us domain, but these sites are not necessarily very representative for the USA. There are two big countries where Goggle Analytics has less than 50% market share, that is Russia and China, where local visitor counter services are quite popular.
The dominant position of Google Analytics is unlikely to change in the near future, because not many other companies would be able to build data centers of the required scale and provide their services for free. The privacy issue could either result in users and law makers to restrict such services on the basis of privacy protection, or we could be heading for a world where we are ready to give up online privacy to a large extent in exchange for convenience and for free services. That second option looks more likely to me at the moment.
_________________
Please note, that all trends and figures mentioned in that article are valid at the time of writing. Our surveys are updated frequently, and these trends and figures are likely to change over time.
Share this page
---
This entry is closed for comments.