25% of the web runs Nginx, including 46.6% of the top 10.000 sites
Nginx reached a new milestone, as one quarter of all websites now rely on that technology. It became the most used web server among top sites already two years ago.
Accordingly, the list of sites using Nginx reads like the who's who of the web: Wikipedia, WordPress, Reddit, Tumblr, Pinterest, Dropbox, Slideshare, Stackexchange, we could go on for hours.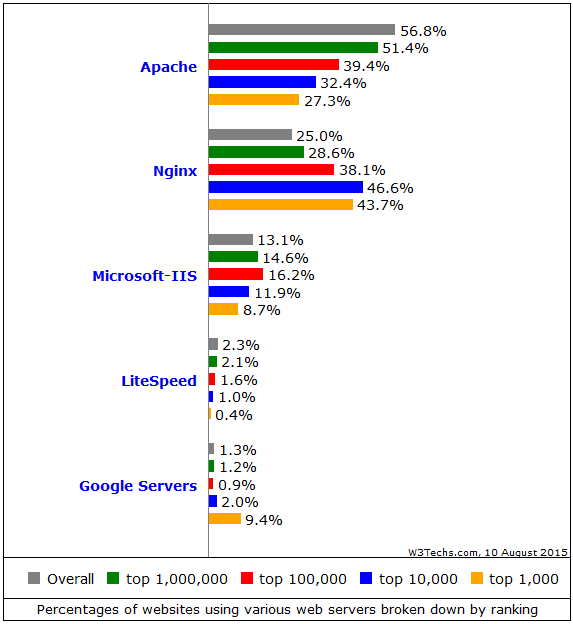 Originally developed in Russia, Nginx is now headquartered in San Francisco. However, its Russian roots are still very visible in our statistics. 71.8% of all sites written in Russian use Nginx. That is topped only by Kazakh sites (72.8%). Compare this with still very impressive 26.3% of English language sites, and 5.8% of Japanese sites.
The typical Nginx website uses PHP (94.9%) and runs on top of Linux (65.1%), preferably Ubuntu (30.7%). Nginx is also well positioned among sites that use modern protocols. 10.5% of Nginx sites support IPv6, which may not sound a lot, but is clearly above the average of 5.9% IPv6 sites. Similarly, 18.0% of Nginx sites support SPDY, compared to 5.7% of all sites. Only HTTP/2 is not yet in the Nginx feature set, but has been announced for the end of the 2015.
Nginx has been the fastest growing web server ever since we started our measurements in 2009. They have been Web Server of the Year 5 times in a row. On an average day, 950 additional sites within the top 10 million websites start using Nginx. There is still plenty of room to grow, and it looks like Nginx will make use of that room.
_________________
Please note, that all trends and figures mentioned in that article are valid at the time of writing. Our statistics are updated frequently, and these trends and figures are likely to change over time.
Share this page
---
This entry is closed for comments.