Nginx just became the most used web server among the top 1000 websites
The Russian Nginx has a reputation of being a fast and reliable web server. High traffic sites all over the world increasingly choose it as the foundation of their web presence.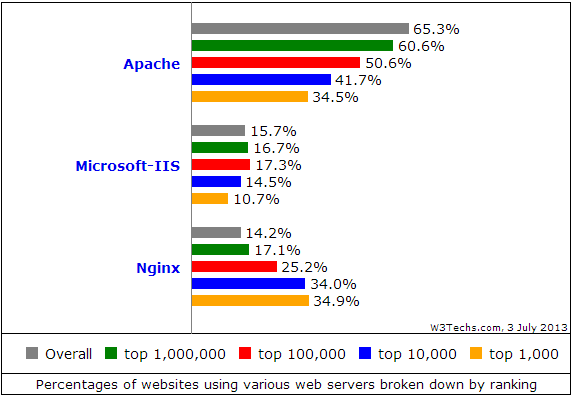 Nginx is used by almost two-thirds of all sites in Russia, and it is also the most popular web server in Ukraine, Belarus, Kyrgyzstan and Kazakhstan, as well as within the adult .xxx top level domain. It is the number two server on a very long list of domains, including Germany and the European Union.
The recent dip in the overall popularity chart of Nginx is caused by the expansion of our sample size, Nginx is actually gaining at all popularity levels. It is now used by 14.2% of all sites, up from 3.6% in 2009.
Looking at the technology change report, we see that Nginx is gaining from all other web servers, mostly from Apache. However, that chart also shows significant transitions in the other direction. Webmasters are flexible nowadays.
Nginx users are relatively swift in adopting new versions. Two month after the release of version 1.4 it is already used by more than 10% of Nginx installations. Other web servers struggle much more to convince their users to upgrade, see for example the corresponding Apache chart.
Nginx is faster than its main competitors when it comes to make use of new technologies, such as IPv6 or SPDY. Only Google Servers do better here, but those servers are only run by Google itself and not by thousands of individual webmasters, which makes a big difference.
95.4% of Nginx sites are using PHP, much more than average. But Nginx is also very popular among Ruby users, with a 44.4% usage rate among sites using that language. 98.7% of all Nginx installations run on a Unix-like operating system, with Debian, Ubuntu and Gentoo being particularity popular choices.
11 years after its initial deployment on the Russian Rambler website, Nginx has reached a very significant milestone, and we are confident it has even more in store in the future.
_________________
Please note, that all trends and figures mentioned in that article are valid at the time of writing. Our statistics are updated frequently, and these trends and figures are likely to change over time.
Share this page
7 comments
OK, NginX is steadily growing since some month. Impressive, how fast this very unique product is gaining more and more marketshares - even the "old ruler of the kingdom", king apache, is loosing some shares to Nginx, even though they share some roots...
Regards
There's of a flaw to stats like these that use the http server header, which is that closer-to-user servers can/do replace the header.  This is especially true of nginx which is frequently used as a proxy/cache server.  So, you're just looking at the front-door, there could easily be apache behind it (or jboss/nodejs/…).  I somewhat doubt that 35% of the websites are being written in C.
No wonder Nginx is gaining in popularity. I have $30 a month Nginx VPS systems that take more traffic than my older $500 a month Apache dedi's do.
Some of that has to do with the age of the dedicated servers themselves. A lot has changed in the last 2 years.  However when I can move some of the clients I host to a much cheaper VPS system that is actually faster. It means I can provide more value to my customers. This drives popularity. 
I predict that in 5 years from now nginx will own 70% of the market and nearly a 100% of new systems. Unless of course something even better comes along!
Where is Lighttpd and Cherokee?
Now  all our webmasters are using  Nginx + PHP
@Rob: Sure, we can report only technologies that are visible from the outside. In a complex installation, we often get indirect clues about technologies. For example if we find some tools that we know to run only under Microsoft-IIS, we count that as IIS site, even if that is not reported directly. That's one reason why the total of all percentages in the web server report exceeds 100%: some sites use more than one web server technology. But nevertheless, in a complex multi-tier setup we will often fail to detect all technologies.
I don't understand your remark about websites written in C. I also doubt that this is common. You seem to conclude this from our surveys, but that's not what we report.
@Anon: You can find Lighttpd and Cherokee in our complete web server survey.
if only cpanel will work with nginx out of the box, it could dominate the whole market not just top 1000 websites
---
This entry is closed for comments.