World map showing IPv6 adoption rates per country
The Internet Protocol version 6 (IPv6) provides amongst others a vastly larger address space than the preceding version 4. Introduction of IPv6 is a necessity to accommodate an ever-growing number of Internet-connected devices. Nevertheless, the IPv6 adoption rate is slow, with only 2.7% of the top 1 million websites ready for it.
In order to determine whether a website is ready for IPv6, we look at the site's DNS entry. If there is an IPv6 address assigned, which means there is an AAAA record for the domain, then we count the site as supporting IPv6. We do not take into account the content provided by the site at that address.
When we assign the top level domains of the websites to countries, we get the percentage of sites that are prepared for IPv6. You can see these percentages in the picture below, and you can find the raw figures in the top-level-domain breakdown report.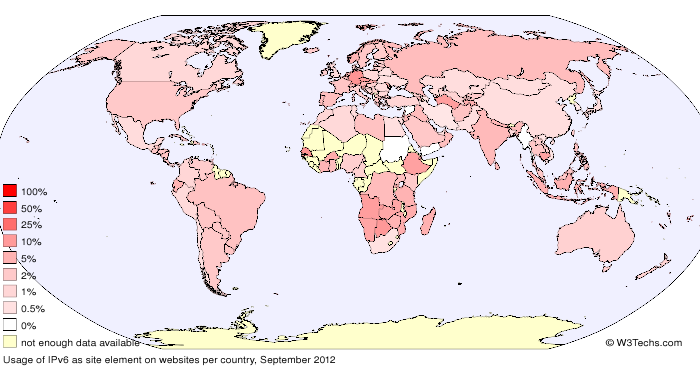 click at the picture to download a high resolution version
Amongst the major countries, Germany has the highest IPv6-readiness with 11.7%, followed by the Czech Republic with 10.2%. Russia (3.6%), India (3.9%) and the Netherlands (4.1%) are also above average. The region with the highest percentage of IPv6 sites is the Faroe Islands with 13.6%, but we have only few sites of that domain in our surveys.
The top level domain with the highest IPv6-readiness is .mil (US Military) with 20.3%, but that becomes part of the US figure in the country statistics, and that figure is only average.
There are quite a few countries with less that 1%, most notably China (0.3%), Japan (0.7%) and UK (0.7%).
The ranking breakdown report shows a higher IPv6-readiness for the most popular sites: 4.2% for the top 10,000 sites and even 11.2% for the top 1,000 sites.
The breakdown by web server shows that sites hosted by Google are mostly IPv6 ready with 93.5%. Compare this with 0.6% for the Yahoo Traffic Server. IPv6-readiness of sites using Microsoft-IIS is also remarkably low with 0.3%.
We will continue monitoring and publishing the IPv6 adoption rate as part of our site elements report.
_________________
Please note, that all trends and figures mentioned in that article are valid at the time of writing. Our statistics are updated frequently, and these trends and figures are likely to change over time.
Share this page
---
This entry is closed for comments.