Squarespace is the most popular hosted content management system
2003 was a good year to create a new content management system. Matt Mullenweg started developing WordPress for his personal use, and so did Anthony Casalena by creating the first version of Squarespace. Both turned that personal project into a hugely successful business. While WordPress as an open source tool became the most popular CMS, Squarespace as a pure SaaS solution is now the most popular hosted platform.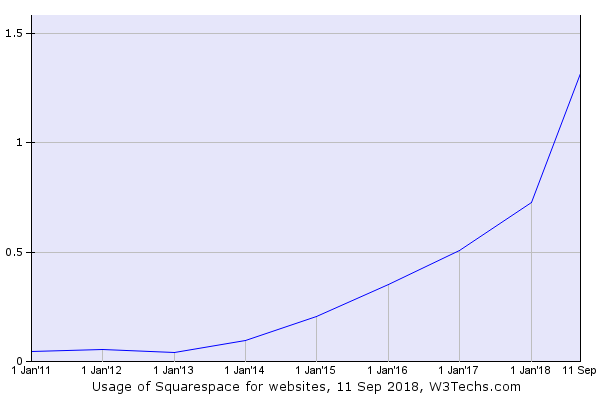 Google's Blogger used used to hold that crown as the most popular hosted CMS until January 2018, then it was Shopify for a few months, and now it's Squarespace. WordPress also offers a hosted service at Wordpress.com, but if we only count this portion of the WordPress market share, it is at "only" 0.5% of all sites clearly behind Squarespace.
The market share of Squarespace among new sites is even higher: 2.6% of new sites use Squarespace, more that twice of Drupal's share for example.
Squarespace is less popular among high-traffic sites. Squarespace.com itself is actually the only top 1000 site that uses the platform, and the market share among the top 100k sites is only 0.2%, one of the lowest among the top systems.
Most sites that start using Squarespace have used WordPress, Drupal or Joomla before. This is little surprise, because that is where its potential customers are in large numbers. On the other hand, Squarespace loses more sites that it gains from other hosted services such as Shopify, Wix and Webflow.
Squarespace is particularly popular among English language sites with 96.7% of all Squarespace sites written in English. Being used by 3.1% of English sites makes it #2 in that market segment, only behind WordPress. Squarespace does support a few other languages on its platform, but it is not yet that successful in non-English markets: #18 among French sites, #26 among Italian sites and #28 among German sites. Accordingly, Squarespace is most popular in countries such as USA, Canada, Australia, New Zealand, and it is used by less that 0.05% of sites from China, Japan and Russia.
Another amazing statistic is this: if we look at Squarespace as a hosting provider, it is the number 10 in this market, ahead of companies such as Rackspace or Microsoft. That's a long way from Casalena borrowing $30,000 from his father to buy computer servers 15 years ago. Considering the current growth rate, we feel like there is more to come.
_________________
Please note, that all trends and figures mentioned in that article are valid at the time of writing. Our surveys are updated frequently, and these trends and figures are likely to change over time.
Share this page
2 comments
Great article Mattias, TY!
When you say that WordPress.com is only 0.5% of CMS sites... if "WordPress" is 31.9% currently, does this mean that WP.com is 0.5% and WP.org is 31.4%?
Hi Glenn. Yes, that's it.
---
This entry is closed for comments.