Nginx runs on 10% of all web sites
The Russian web server nginx is the shooting star in the web server arena. At the moment, more than 100 of the top 1 million websites start using nginx every single day.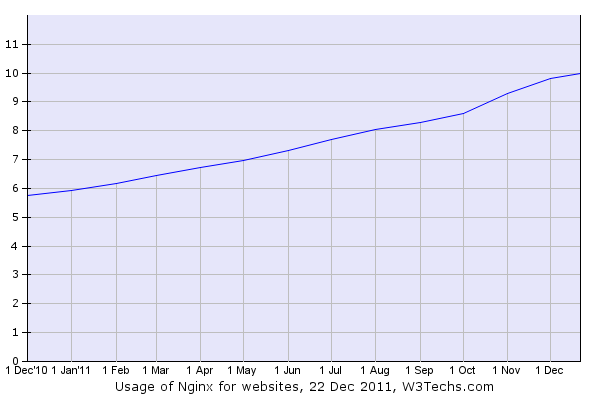 Nginx gains from all other web servers, most of the sites switch from Apache, see our technology change survey.
Sites with high traffic are even more likely to use nginx. It powers 23.9% of the top 1.000 sites. This includes many well known sites such as Wordpress.com, Tumblr.com, Sourceforge.net, Archive.org and Dropbox.com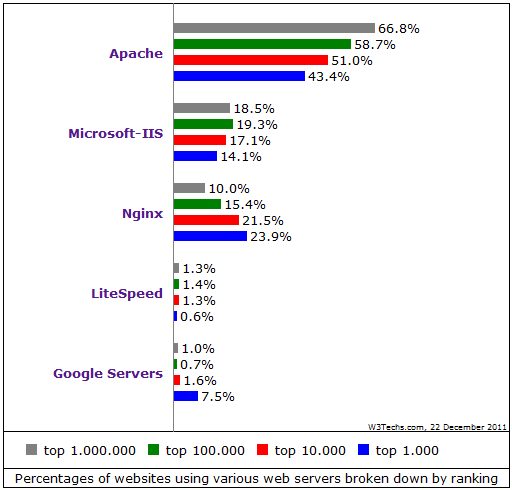 Nginx has 55.2% market share in Russia (.ru is the most dominant country-code top level domain amongst the top 1 million sites). It also the #1 server in a few other countries, whereas it is used by only 1% of US government sites.
Looking at the technologies behind typical nginx sites, we see that they use primarily PHP (94.6%) as server-side language. Furthermore, nginx has an even higher market share on sites that use Ruby or JavaScript (server-side), see our programming language breakdown report. Nginx sites run almost exclusively on Unix-like operating systems (99.1%), although nginx works fine on Windows as well.
Is is also interesting that 80.6% of nginx sites use HTTP compression, compared to 40.2% of Apache sites and 28.0% of Microsoft-IIS sites.
The web server market is still dominated by Apache, but this is slowly changing, and successful newcomers are always welcome in a market.
_________________
Please note, that all trends and figures mentioned in that article are valid at the time of writing. Our surveys are updated frequently, and these trends and figures are likely to change over time.
Share this page
---
This entry is closed for comments.