New surveys on the usage of structured data formats
When search engines and other bots visit a site, they try to find out what the site is about, which organization or person owns it, what are the products or services offered on that site, and many other things. It is a challenging task for an algorithm to extract that information from text and pictures that are created for human visitors. That's where structured data comes in. A number of formats have been defined to embed such information for the purpose to make it easier for bots to extract and interpret it.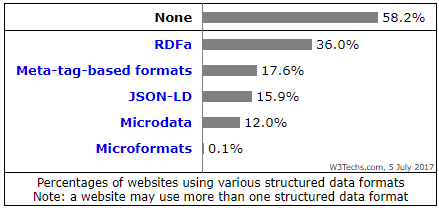 Our structured data formats survey shows that 41.8% of all websites use one or more of these formats. RDFa (Resource Description Framework in attributes) is by far the most popular one. The popularity of RDFa is owned to a large extend the Open Graph protocol, a format originally developed by Facebook and based on the RDFa standard. Open Graph enabled webmasters to control to a certain extent how their content is integrated and presented on Facebook and other social media sites. Almost a third (33.2%) of the websites use Open Graph.
Meta-tag-based formats are second in popularity, used by 17.6% of the web. Meta tags by themselves offer not much structure, but some formats use them to further refine what web pages can present. Twitter Cards are the most popular of the meta-tag-based formats, used by 16.7%. They serve a similar purpose than Open Graph, but specifically for Twitter.
JSON-LD, used by 15.9% of the websites, is a more general standard, not specifically targeted for social media. Its use is encouraged by Google, which explains its popularity as webmasters tend to do what Google asks them to do.
The other formats in our survey, Microdata and Microformats are less popular, presumably because they are not actively pushed by one of the big players on the internet at the moment.
High-traffic sites tend to use more structured data. For example, Open Graph is used by 54.8% of the top 1000 sites.
Similarly, websites that are built with a content management system are much more likely to use structured data. For example, 89.6% of the sites that use JSON-LD are based on a CMS, compared to only 52.2% of all sites. More than 4 out of 5 JSON-LD formats are found on WordPress sites. Unsurprisingly, sites that use other modern web standards such as HTML5 or HTTP/2 are also much more likely to use structured data.
There are also significant regional differences. Open Graph is particularly popular in Brazil, Australia and New Zealand as well as Norway and Finland. Twitter Cards are popular in the UK, Ireland and Spain, and JSON-LD in Australia, New Zealand and South Africa. USA ranks average in structured data adoption, whereas usage in Russia, Japan and China is significantly lower.
We will start next month showing historical trends for structured data usage. We expect it to go up steadily.
_________________
Please note, that all trends and figures mentioned in that article are valid at the time of writing. Our surveys are updated frequently, and these trends and figures are likely to change over time.
Share this page
1 comment
Do you have information about what languages use more structured data?
---
This entry is closed for comments.