Most popular web servers by country
When we map the top level domains to countries, and look at the most popular web server for each country, we get this picture: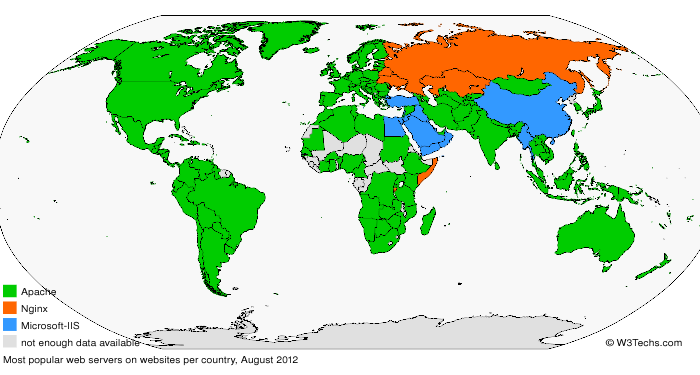 click at the picture to download a high resolution version
This shows, that although Apache is used by 65.2% of all web servers, there are several countries which are dominated by the competition.
Apache has over 90% market share in Japan, and over 80% in Germany, France and a number of smaller countries. It dominates in North and South America, Australia and most of Europe and Africa.
Next comes Microsoft-IIS, which has 57.6% of the Chinese market, and also dominates in several countries in the Near East, such as Egypt, Saudi Arabia, Iraq, Turkey, Israel and the Palestinian Territories. Finally these countries have found something they have in common.
The third tool in that picture is Nginx, the fastest growing web server. It dominates in Russia, where it comes from, with 59.8%. It is also the most popular web server in several neighboring countries such as Ukraine, Kazakhstan and Belarus. And in Somalia, in case you were wondering what that orange piece of Africa is.
Starting with this month, we include this map of the geographical distribution of tools in our monthly reports. The reports of individual tools include a similar map, showing the usage percentage per country, of which we will soon present an example here.
_________________
Please note, that all trends and figures mentioned in that article are valid at the time of writing. Our surveys are updated frequently, and these trends and figures are likely to change over time.
Share this page
2 comments
I wonder how many of these servers are running PHP versus ruby on rails.
@Nathan: You can find information on programming languages in this survey.
---
This entry is closed for comments.