Most popular content management systems by country
We created this world map by coloring each country according to the most popular content management system within the the top level domains of that region.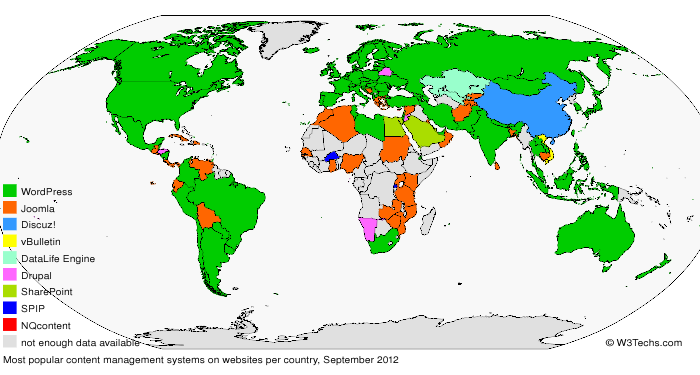 click at the picture to download a high resolution version
WordPress, as the most popular CMS overall, also dominates this picture. It is the number one system in most countries in North and South America, Europe and Oceania, many countries in Asia including Russia and India, and surprisingly few countries in Africa.
Joomla dominates a fair number of countries in Africa, for example Algeria, Morocco and Nigeria, several countries in Central and South America, such as Venezuela, Ecuador and Cuba, two countries in Europe, Greece and Bosnia, as well as Afghanistan and a number of other countries in Asia.
Discuz is a Chinese system that dominates its home market with 49% market share, but is not so much used outside China.
vBulletin is very popular in Arabic speaking countries, but it is the number one system only in Viet Nam.
DataLife Engine is a Russian content management system, which is the third system in Russia, but the most popular one in Kazakhstan and Uzbekistan.
Drupal is considered one of the "Big 3" CMS, together with WordPress and Joomla, but in this chart it shows only on a handful of countries, most notably Belarus, Jordan, Honduras and Namibia. Drupal is also the most popular CMS on .edu and on .gov sites, but these domains are merged into USA where WordPress has more sites when combined with other USA domains.
SharePoint is the number one system in Saudi Arabia, Egypt, Qatar and Lebanon as well as on .mil sites, which again don't show up as separate country in our chart.
The last two systems on our list are a bit more exotic. The French SPIP dominates not in France, where it is number 5, but in Rwanda and Burkina Faso. Finally, NQcontent, which ranks 84th in the overall CMS survey, manages to be the most popular system in Cyprus.
There are at least two systems that are surprisingly not present in that chart. Blogger ranks 5th overall and is the second most popular system in several countries, for example India. Typo3 ranks 6th overall, and is very popular in German speaking countries, but it ranks only second behind WordPress in Germany, Austria and Switzerland.
This map is included in our monthly Content Management System Market Report, and similar maps are part of our other monthly reports.
_________________
Please note, that all trends and figures mentioned in that article are valid at the time of writing. Our surveys are updated frequently, and these trends and figures are likely to change over time.
Share this page
---
This entry is closed for comments.