Modernizr is now the second most popular JavaScript library after jQuery
While Modernizr is a JavaScript library, its main target group is web designers, who deal more with HTML and CSS than with JavaScript. Modernizr uses JavaScript in a very clever way to let a web page know what a visitor's browser is capable of and to provide dead-easy ways to react accordingly. So many web designers rely on these features now, that Modernizr became the second most popular JavaScript library after jQuery.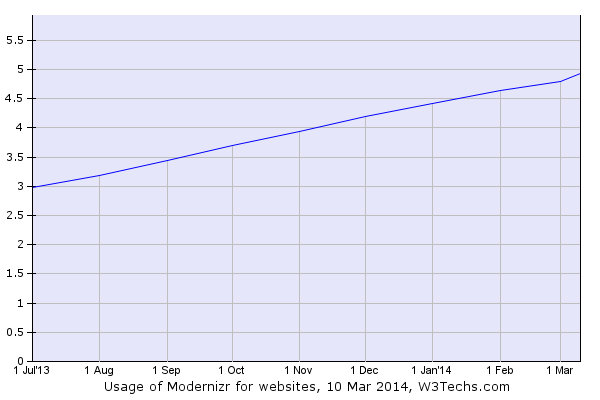 Modernizr is now used by 4.9% of all websites, up from 3% only 8 month ago. Some more statistics: 7.1% of the top 10,000 sites use it, 8.2% of new sites use it, and on an average day, more than 800 of the top 10 million websites start using it.
Modernizr complements nicely with jQuery, and 95.7% of the sites that use Modernizr also use jQuery. No surprise that jquery.com is also one of the most popular sites using Modernizr.
Almost half of all Modernizr sites (48.1%) are WordPress sites, 67.7% use Google Analytics, and 97.5% of them use UTF-8. Modernizr users seem to love de-facto standards.
Modernizr is particularly popular in New Zealand (10.7%), Australia (9.6%) and Philipines (9.0%), as well as in Ireland (9.4%), Norway (9.1%) and Finland (8.9%). Furthermore, it is used on 10.7% of .edu sites. It is much less popular in China (0.5%), Japan (1.3%) and South Korea (1.7%).
Our conclusions from these statistics is best summarized in the opening words of the last Modernizr blog entry: "While Modernizr was meant from day one to eventually become unnecessary, that day is far from here." Further away than ever.
_________________
Please note, that all trends and figures mentioned in that article are valid at the time of writing. Our statistics are updated frequently, and these trends and figures are likely to change over time.
Share this page
---
This entry is closed for comments.