Highlights of web technology surveys, March 2011: YUI is steadily gaining popularity amongst JavaScript developers
The JavaScript framework scene is totally dominated by JQuery. The YUI Library is the only other library that is gaining market share. In the last 6 month it increased its user base by around 0.1% of all the websites every month. That corresponds to 1,000 new sites every month amongst the top 1 million sites, and tens of thousands in total. It is now used by 2.9% of all websites.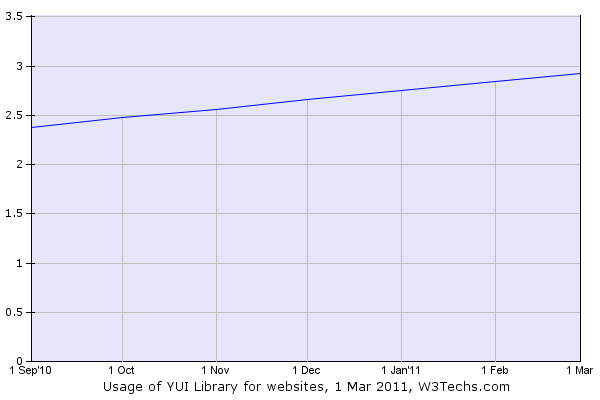 Some of the best known websites use YUI, that includes of course Yahoo.com, but also Huffingtonpost.com, Reuters.com and NFL.com.
The technology change report shows, that YUI is taking away users from all other libraries except JQuery.
Compared to the other popular JavaScript libraries, it tends to be used more by high traffic sites, as shown in the market position diagram.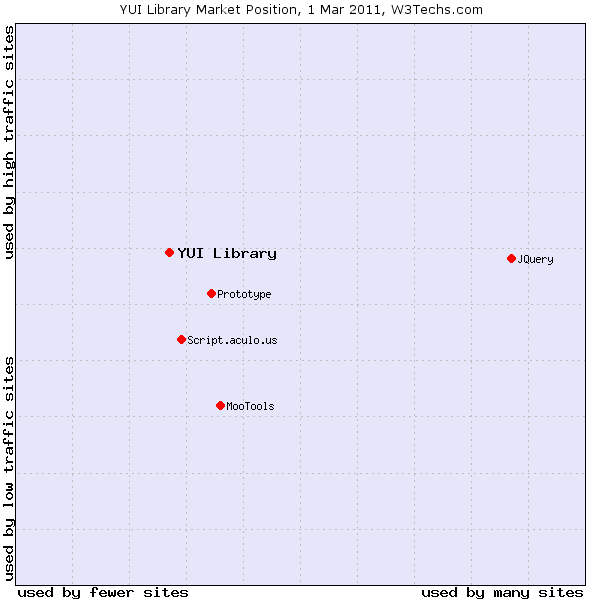 JavaScript libraries often come bundled with Content Management Systems. Our CMS breakdown report shows that for YUI this is the case with vBulletin, TypePad and Squarespace, whereas other popular CMS such as Joomla and Drupal are rarely used together with YUI.
The popularity of vBulletin in Arabic speaking countries certainly contributes to the fact that YUI is the most popular JavaScript library amongst the Arabic websites, even ahead of JQuery. On the other hand, usage of YUI on Japanese and Chinese sites is relatively low.
Our Operating System breakdown report shows that YUI is used less on Windows-based servers compared to Unix servers. There is no technical reason for this, the popularity of Windows servers in China is one factor.
One remarkable fact is, that the latest version 3 of YUI is used only by 4.4% of the YUI sites. That version has been released in September 2009, which means it has a strikingly slow adoption rate. If that rate continues, then version 3 users will outnumber version 2 users only in 2027. If JavaScript will still be around by then.
_________________
Please note, that all trends and figures mentioned in that article are valid at the time of writing. Our surveys are updated frequently, and these trends and figures are likely to change over time.
Share this page
---
This entry is closed for comments.