Highlights of web technology surveys, February 2011: Ubuntu increases its market share on web servers
Today, Ubuntu runs on 4% of all web servers. That figure was 2.6% only one year ago.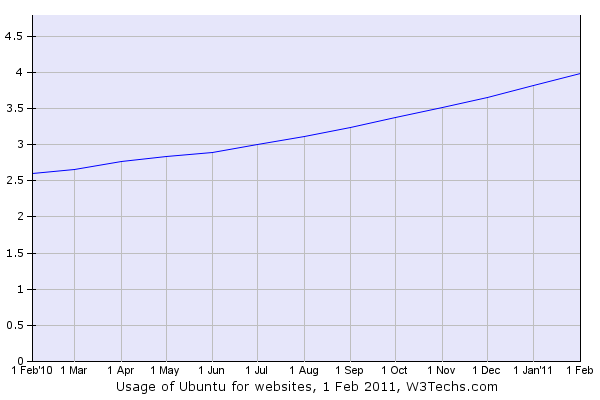 That makes it the 4th most popular Linux distribution on web servers, after CentOS, Debian and Red Hat, but it is that one that was steadily increasing over the last year.
When we look where these new users come from, we see that Ubuntu quite impressively has a net gain from all other major distributions, while only Debian and CentOS also win back a notable number of users.
Some very well known sites run Ubuntu, for example Archive.org, Sitepoint.com and Ea.com. Our ranking break down report shows that Ubuntu is even more popular amongst the top 1.000 sites with a 4.5% usage rate.
For some reason, sites running Drupal and MediaWiki use Ubuntu much more than other sites (16% and 18.5% respectively), as well as sites running on Ruby (34.8%).
And which web server software is primarily used on these Ubuntu boxes? Our web server breakdown report indicates that, like on all platforms, Apache is very strong, but Ubuntu is also much used in combination with Nginx, Lighttdp and Cherokee.
Looking at the geographical distribution as indicated by top level domains, we see that Ubuntu has a high market share in most of Europe: Germany (9.5%), France (8%), Sweden (11%) and Hungary (12.5%), whereas it is not as much used in Asia: Japan (0.7%), China (0.8%), India (2.1%). The corresponding figure for USA (3.3%) might not be as reliable, because the .us domain is not necessarily very representative for the US market.
If this current trend in Ubuntu usage continues, it might in a few years have the same strong position on servers that it has already on desktop systems.
_________________
Please note, that all trends and figures mentioned in that article are valid at the time of writing. Our surveys are updated frequently, and these trends and figures are likely to change over time.
Share this page
1 comment
There is a reason Ubuntu shares are rising fast.  Windows server 2008 and all Microsoft products are going to continue losing market share.  Why? It's simple: Microsoft cannot do anything right.  I switched from Server 2008 r2 because it represents too much load on my Opterons, whereas Ubuntu 11.04 seems to just idle under load and the crazy fans don't have to work to keep my server cool.  Extremely efficient OS!  I'm sorry for my opinion but MS puts out Bloatware.
---
This entry is closed for comments.