Debian/Ubuntu extend the dominance in the Linux web server market at the expense of Red Hat/CentOS
At the beginning of 2010, Red Hat combined with its derivatives CentOS and Fedora had 53.2% of the web server Linux distributions, while Debian and Ubuntu combined only had 37.1%. Now that percentages have changed to 37.3% vs. 58.5% and Debian/Ubuntu have a double lead.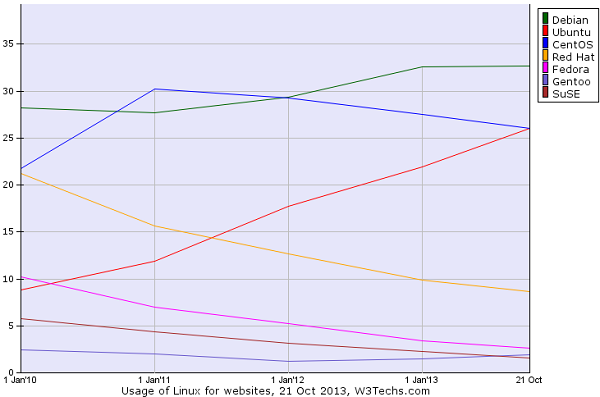 Ubuntu is the shooting star and currently gains around 500 of the top 10 million websites every single day. Sites switch to Ubuntu from Debian just as readily as from CentOS and Red Hat, while CentOS is still gaining sites from Red Hat and Fedora, but is losing to the Debian camp.
Ubuntu is also the most popular distribution among the top 1000 sites, ahead of Debian.
While we are at it, let's have a look at other web technologies and how they combine with the various Linux distributions. CentOS is the most popular distribution among Java-based and Perl-based sites, while Debian leads among the sites written in PHP and Python, and Ubuntu leads the sites based on Ruby and JavaScript.
CentOS is slightly more popular than Debian on sites that run the Apache web server while Debian clearly dominates the sites that use Nginx.
There are also significant differences in Linux preferences when looking at individual countries. Debian is the most popular system in Germany, France, Italy, Spain, Russia and Eastern Europe. CentOS is leading in Japan, China, India, Vietnam and UK, and Ubuntu in South Africa, Australia, Brazil, Argentina, Sweden and Norway. Red Hat is the most popular Linux distribution on .edu and .gov sites.
Popularity should never be the most important factor when choosing a Linux distribution for a web server, but it is always good to know what other webmasters are doing. So you might want to keep an eye on those charts.
_________________
Please note, that all trends and figures mentioned in that article are valid at the time of writing. Our surveys are updated frequently, and these trends and figures are likely to change over time.
Share this page
5 comments
What is the most popular distribution in the US?
Hi Willie,
Most popular in the US is CentOS.
"Most popular in the US is CentOS."
Just wondering how you worked that out - GNU/Linux distro's are hard to count since anyone can copy/distribute.
Windows and Mac have sales figures that they use to count number of sales ....there is no reliable figure to use to count how many or how many of which distro is in use.
@xShaun: we don't count the number of copies distributed, we visit websites, see our overview and FAQ.
Well, Debian is most comfortable to update without to do a clean install.
---
This entry is closed for comments.