Debian is now the most popular Linux distribution on web servers
Debian lost that #1 position in June 2010 to CentOS and gained it back now, after a head-to-head race in the last year.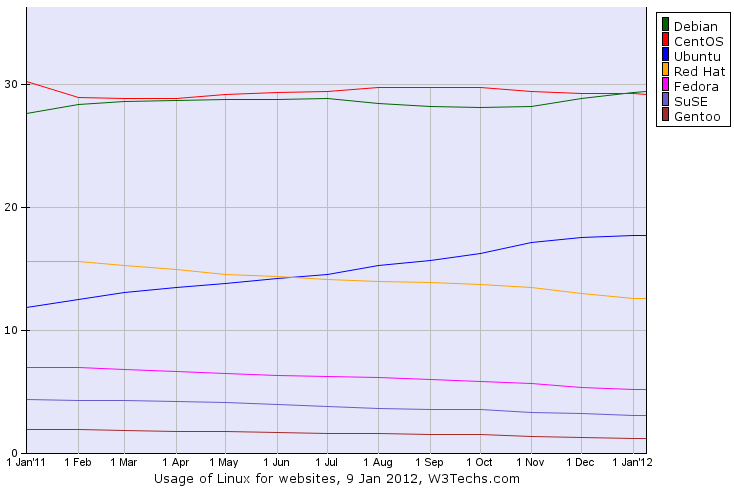 Debian is now used by 9.6% of all websites (up from 8.9% one year ago, and 8% two years ago), which is equivalent to 29.4% of all Linux-based sites.
It is also the fastest growing operating system at the moment: every day 54 of the top 1 million sites switch to Debian.
This growth comes primarily from websites that are starting to use Linux, because we see in the technology change report that many sites subsequently switch from Debian to the Ubuntu distribution (which is based on Debian). Debian gains market share from all other Linux distributions, mostly from CentOS, SuSE and Fedora.
Debian is a little bit less popular amongst high traffic sites, but 8.5% of the top 1000 sites is still very strong.
If we look at which web servers run on Debian boxes, we see that Nginx and Lighttpd servers very often run on top of Debian (almost 60%), however Apache still is by far the most popular web server when we look at all Debian servers.
An overwhelming majority of all Linux servers use PHP as server-side language, and Debian is no exception: 97.5% of the websites served from Debian are written in PHP. Around 30% of those use one of the common PHP-based content management systems.
Looking at the geographical distribution of Debian sites, we see that Debian is extremely popular in Europe: Germany 39.7% of all sites, Poland 36.1%, France 33.6%, Russia 26.4%, and much less popular in Asia: Japan 1.9%, India 1.8%, China 0.5%. Debian usage is also below average in USA and Canada.
Preferences of Linux webmasters tend to change relatively quickly. We have seen the head-to-head race between CentOS and Debian, but also the rise of Ubuntu as server system. At the moment Debian is on top, let's check again in a few months.
_________________
Please note, that all trends and figures mentioned in that article are valid at the time of writing. Our surveys are updated frequently, and these trends and figures are likely to change over time.
Share this page
13 comments
Hi,

how do you count ScientificLinux? I think I'm not alone in switching from Centos5 to Scientificlinux6 because of the extreme delay of Centos6.1.

Greeting

Jens Kühnel

Indeed, Scientific Linux saw a sharp increase in the last months: https://w3techs.com/technologies/details/os-scientificlinux, but in absolute figures it is still clearly behind other distributions.

the other big advantage of debian compared to centos is that debian does make a good stable desktop as well.....I really looked at using centos or sl as my workstation (7+ years of support is really appealing) but the multimedia is not behind, its non existant.

we run a small shop at our office and running debian for our servers AND my desktop is really nice for consistancy :)

And how about a platform ranking?! A graphic showing the total sites that run in Linux, Windows, UNIX,...

This woul be nice! Also it would be nice an architecture ranking: amd64, i386, POWER, z (Mainframe),...

Jens,

You do know that CentOS-6.2 is released now, right?  And that it was released in 10 days (on Dec 20 13:27:59 EST 2011), Which was the same day as Oracle released UBL 6.2.

And that Scientific Linux just released the Beta of their 6.2 yesterday, 20 days later) ...

http://listserv.fnal.gov/scripts/wa.exe?A2=ind1201&L=scientific-linux-devel&T=0&P=499

Ha! ha ! ...debian. Power at last

Some calculations reveal that only 32.7% of all webservers use Linux.

100 / 29.4 * 9.6 or am I missing something?

@Andre: That's correct. 63.5% use Unix-like systems, and about half of that can be identified as Linux, see https://w3techs.com/technologies/details/os-linux

@felipevsw: Our operating system surveys start here: https://w3techs.com/technologies/overview/operating_system. From there you can drill down by clicking on Unix, then Linux and then individual Linux distributions. We don't have enough information about the underlying hardware architecture to include that in our surveys.

Johnny, I think he knows it but he talked about release 6.1 as a turning point which was released way earlier than CentOS.

but also the raise of Ubuntu as server system

Did you mean rise?

Raise => Rise

@mythicalprogrammer: Sure. It's corrected now, together with another typo I found.

The primary issue I take with this article is that web_servers != websites.

examplecompany.com with 20 sub domains and 400 web servers behind an F5 is treated equally to my personal Linode instance running Debian... Which is OK if the stated purpose is to "count websites", but makes a big difference when talking about "the most popular Linux distribution on web servers."

That's more than a minor nitpick in my eyes.

Another thing to note that may influence your statistics is many large corporations use McAfee and other security scanners who claim that "reporting OS and version numbers" is a minor security risk. By disabling or shutting that up, it makes their security report look better and adversely affects your statistics, skewing them towards smaller shops who can't afford it or individuals. Likewise, large load balancers like netscalers of bigIPs/viprions may have an adverse affect, potentially misreporting thousands of sites, especially large ones.

Granted you may address this, and this is more of a problem with alexa's data gathering than your methodologies, but I thought it was worth mentioning nonetheless.




---
This entry is closed for comments.