Comodo has become the most widely used SSL certificate authority
The Symantec Group with its brands GeoTrust, Thawte and Verisign has been the leading SSL certificate authority up to now, but has been dethroned by Comodo, whose market share climbed to 33.6% compared to 33.2% for Symantec.
Interestingly, while Comodo is leading the overall market, Symantec is still stronger among top ranked websites. Market share among the top 1000 sites is 50.8% for Symantec vs. 12.0% for Comodo.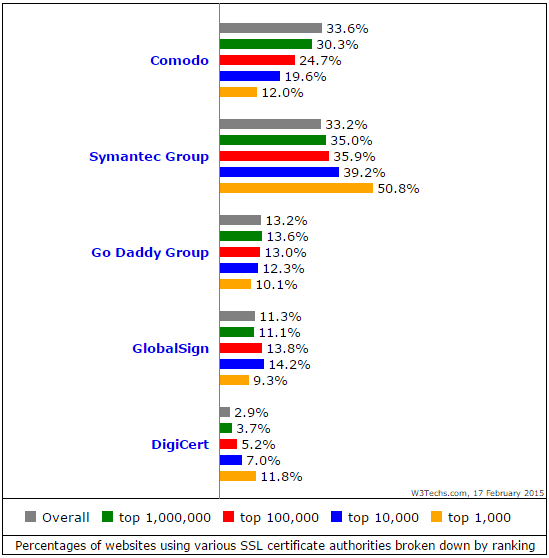 There are also significant regional differences. Comodo is very popular in Taiwan (54.0%), Netherlands (50.6%), India (44.6%) and on Arabic language websites (55.2%), whereas its market share is relatively low in Japan (4.2%), South Africa (15.7%) and China (19.3%).
Comodo's market share is likely to grow further, as it is particularly popular among new sites: 51.2% of sites that entered the top 10 million in the first 6 weeks of 2015 use Comodo certificates, compared to 23.4% of those sites using Symantec. Another promising fact for Comodo is the 63.4% market share it has among websites that support the SPDY protocol, which is basis of the upcoming HTTP/2 release.
However, the whole SSL certificate market can be expected to grow far beyond the 20% of sites that currently use a valid SSL certificate. That is not only because encryption is essential for the growing SaaS market, but also because Google started to favoring HTTPS encrypted sites in their ranking, and whatever Google says, webmasters are listening.
_________________
Please note, that all trends and figures mentioned in that article are valid at the time of writing. Our statistics are updated frequently, and these trends and figures are likely to change over time.
Share this page
2 comments
Please can you let us know the source of this data and the methodology? Crawl / crawl size (all IPv4 Ip space?) / frequency / any other source?
Regards. 
You can find that information in our survey description, and more in the FAQ.
---
This entry is closed for comments.