HTTP/2 adoption is still low at 0.4%, but growing fast thanks to LiteSpeed
The new HTTP/2 standard, whose final version has been published in May 2015, is now used by 0.4% of all websites (up from 0.24% at the beginning of the month), and by 7.5% of the top 1,000 sites.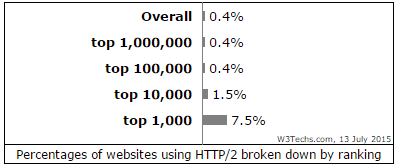 Compared, for example, with 4.8% adoption of SPDY, the unofficial protocol developed by Google which is the technical basis of HTTP/2, that is still quite low.
All local Google sites and some other Google properties such as YouTube support HTTP/2 (in addition to SPDY). However, if we look at the HTTP/2 adoption rate broken down by web servers, the result is a bit surprising. Only 0.6% of websites that run Google servers support HTTP/2, primarily because all the Blogger sites have not yet been switched over.
What is surprising is that 19.5% of LiteSpeed servers already offer HTTP/2. LiteSpeed is used by 2.2% of all websites, and currently 96.5% of all HTTP/2 sites are running LiteSpeed.
Other web servers will follow soon. Apache, the leading web server, has not yet made an official announcement, but an unofficial HTTP/2 module is already available.
Nginx, a pioneer in SPDY adoption, has announced HTTP/2 support by the end of the 2015.
Microsoft-IIS does not yet support HTTP/2 (therefore all HTTP/2 sites at the moment run Unix-link operating systems), but it will support HTTP/2 on Windows 10, which they will begin to roll out at the end of July.
Considering the relatively painless transition from HTTP/1 to HTTP/2 we can assume that HTTP/2 will become the dominant version. One observation should make us less optimistic for a speedy adoption: even when all major web server support the protocol, we still need webmasters to switch over to new versions of their servers, and that can take time. For example, more than 3 years after the release of Apache 2.4, only 20% of Apache servers use this "new" version. Adoption rates for new versions of Microsoft-IIS are not much faster, only Nginx users move more quickly.
That could mean that HTTP/1 will dominate web traffic for two or three more years. In the meantime, you can watch HTTP/2 adoption in our dedicated report, which is updated daily.
Share this page
---
This entry is closed for comments.