New survey type: market position reports
Posted by Sam Soltano on 6 December 2010 in News
Our new market position reports are best explained with an example (please see the most recent version of this diagram here):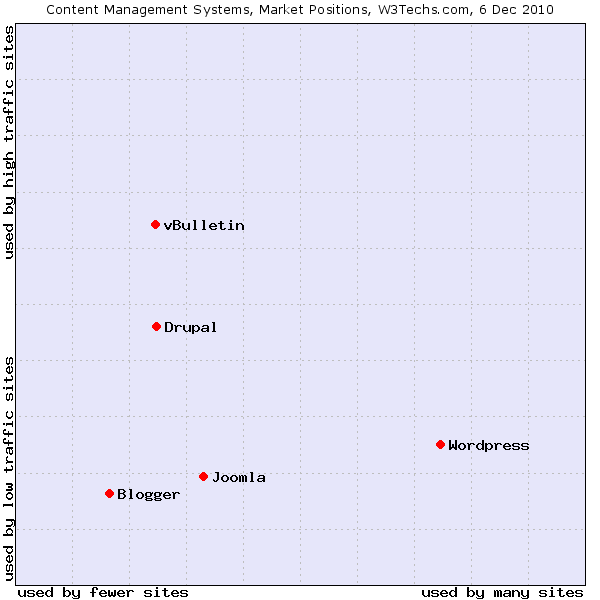 In this diagram you see the market positions of the top 5 content management systems. The horizontal axis shows the popularity of the technologies, that means how many sites are using it. The vertical axis shows which sites are using the technology, high traffic sites or sites with average traffic.
A technology in the lower right-hand side corner is used by many sites, but mostly by sites with average traffic rank. A technology in the upper left-hand side corner is used by fewer sites, but mostly by sites with high traffic. The best position would be the upper right-hand side corner, which is, however, not really possible to hold, because a technology cannot at the same time be used "by most sites" and "primarily by top ranking sites".
In this example we see that WordPress is by far the most popular CMS, and it is primarily used by sites with an average traffic level. If we look at the next three tools, Joomla, Drupal and vBulletin, we see that Joomla has a somewhat larger quantitative market presence, but Drupal and even more vBulletin are preferred by sites with higher traffic levels. Note, that the market position does not necessarily indicate how "good" or how "appropriate" a technology is for a certain task.
The underlying measurements for these diagrams can be seen in the technology overview surveys and in the top-site usage reports, but we find that these combined reports makes it much easier to see how the various technologies are used on the web. Please note, that we use a logarithmic scale for these diagrams, because this makes it easier to see small differences in the lower end of the spectrum. You can see the new reports by clicking on "Market Position" in the main menu of any technology that supports this report. You can extend the reports to show up to 30 technologies, but the diagrams may become very crowded, so that it may be difficult to spot the position of individual technologies. Therefore the default diagram is restricted to the top 5 technologies only.
---
This entry is closed for comments.