Highlights of web technology surveys, August 2011: The LiteSpeed web server
The LiteSpeed web server is currently #4 in popularity and #2 in growth rate in our web server statistics. It is now used by 1.2% of all websites, up from 0.9% one year ago.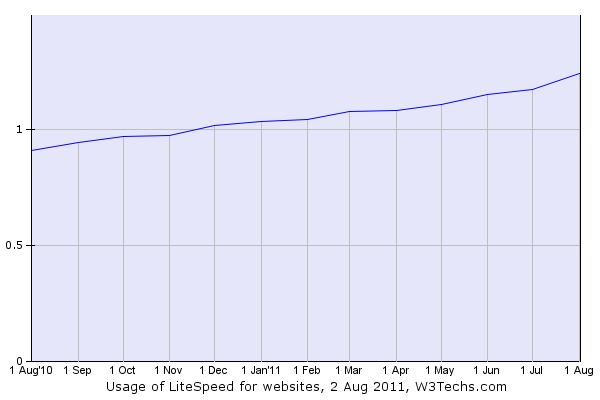 Most of the sites that switch to LiteSpeed were using Apache before, as shown in our technology change report, while LiteSpeed is losing some sites to Nginx and IIS.
LiteSpeed sites run almost exclusively on PHP.  LiteSpeed claims a 50% performance increase compared with Apache for PHP execution, which may be one of the main reasons for webmasters to use it.
Many popular sites use LiteSpeed, but the usage amongst the top 1,000 sites is 0.7%, which is somewhat lower than amongst the top 1,000,000 sites.
The geographical distribution of LiteSpeed sites shows a little surprise: it is most popular in Iran (9.4%) and Turkey (6.4%), while it is only used by 0.1% of sites in Germany, Italy and Brazil.
It is hard to compete in the web server market, with the popular Apache and Microsoft IIS, and the shooting start Nginx. LiteSpeed succeeds quite well, and it looks like they are here to stay.
_________________
Please note, that all trends and figures mentioned in that article are valid at the time of writing. Our surveys are updated frequently, and these trends and figures are likely to change over time.
---
This entry is closed for comments.